Re-posted, but timely considering the Rangers selected Russell Wilson in the Rule 5 Draft. It's highly unlikely Wilson will play baseball, but he was selected with the $12,000 tag to play in AAA or AA. Would he ever want to toil on buses from small town to small town? That seems doubtful. However:
Daniels said Wilson told him he wants to come to spring training and work out and that the invite is open-ended. If Wilson wants to do more than that, he certainly can.
Andrew Luck: 
Didn't play, but here he is in a uniform with Pittsburgh's favorite son: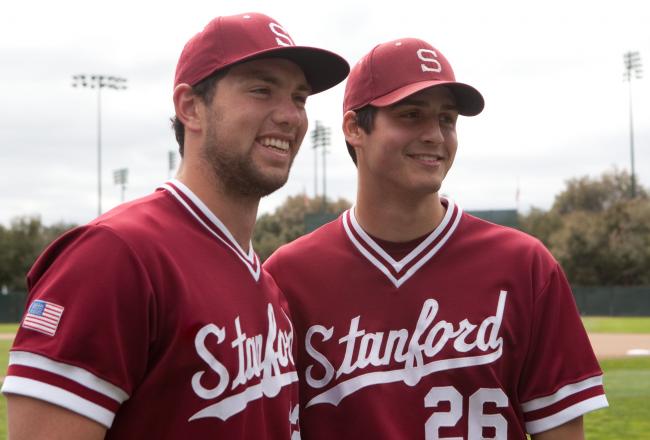 "He was a football player trying to play baseball," said Marc Gustafson, the Rockies' senior director of player development, via Larry Stone of the Seattle Times. "He was very talented, but he needed a lot of work. The Rockies, who drafted him in the fourth round, raved about his work ethic and leadership, the same kind of things the Seahawks have fallen in love with. But the difference is in his skill for football, which was never evident on the diamond. Our people looked at Russell as a prospect, but we weren't going to know until 1,500 at-bats," said Bill Schmidt, Colorado's vice president of scouting. "It would probably be three years. I told Russell that. There were no guarantees, but he had a tremendous work ethic. He always told me his objective was to play in the NFL and major leagues."
Joe Flacco:
"Led" his HS team to a state title. Wanted to play baseball at Pittsburgh. Transferred to Delaware. Drafted by the Ravens. Loved and hated by Baltimore fans. His brother reached AA last year.
Andy Dalton is a 2006 from Katy, Texas. He is a 6'2″ athlete who lists himself as a primary pitcher, but who we also like just as well as a corner infielder. Dalton already has some good physical strength on his 180 lb. frame, but he's young in the face and very projectable. On the mound, Dalton threw up to 84 mph with good tailing action on his fastball. His 65 mph curveball had some tilt and decent spin. Dalton's delivery is smooth and repeatable, and he looked like he had a good idea about mixing pitches and hitting spots. Dalton hits from a narrow, tall stance with a short load and stride, and generates good bat speed through the zone. He showed some pop in batting practice and followed it up with three hits, including a double and triple, against live pitching. Dalton is a strong follow on both sides of the ball.
…also participated in basketball and baseball during prep career.
Christian Ponder:
"It was my sport growing up. I always though I was going to be a Major League Baseball player. And I kinda made a decision my sophomore year of high school that football would be the better route for me." A real Bill Hall type of player:
…lettered three times in baseball, starting as a pitcher, shortstop, and third baseman
Aaron Rodgers batting for his Raleigh Hills Little League team in 1995. He played center field, shortstop and pitcher.
Robert Griffin III:
Competed in outdoor track and field throughout high school. Excelled in 300/400 hurdles.
Kaepernick got a fast reputation for slinging heat in Turlock as a Little League baseball pitcher. By the time he was a senior at Pitman High School, his fastball exceeded 90 mph.

"He was overpowering in baseball," says Brandon Harris, the football team's offensive coordinator when Kaepernick played there.

Kaepernick's prowess on the mound had Major League Baseball knocking. An MLB scout told the Kaepernicks he could go in the first eight rounds of the 2006 draft if he'd commit to baseball. Three years later, even as he was Nevada's starting quarterback, the Chicago Cubs took a shot and selected him in the 43rd round. He wasn't interested.

When Kaepernick made it known he wanted to play football, there was one problem: Barely anybody wanted him as their quarterback.
"Matt started his first varsity baseball game as a freshman, at third base against Malvern Prep. We were playing against his older brother, Motts. Matt had two hits, no errors, and we won. That's how he got the nickname Matty Ice." -William Penn Charter baseball coach Richard Mellor
"I love baseball. I grew up playing baseball. I love everything about baseball. It's such a different mentality than football. So many more games and a different atmosphere. I've always been a fan of it, and having the connection and friendship I have with Todd [Helton] has made it very special for me. I always check the Rockies' boxscores to see how Todd is doing…I played shortstop. I wasn't good enough to stick with it. I love paying. I probably outgrew the position about my senior year. But I love the bus rides. I love the camaraderie. All my receivers played baseball with me. In the summer, we'd go out and play baseball in a summer league, we come back from a game and keep our spikes on and go out and throw. I always kept a football in my bag."
When he was the junior varsity coach, Jensen was around a pretty solid all-around player, a lefty-hitting outfielder with speed and power. Kid's name was Barry Bonds.But there was this other player, a big, 6-4, 200-pound, lefty-hitting catcher, who, in Jensen's eyes, stood out above the rest. The player's name was Tom Brady.

"I thought Tommy was a sure thing as a baseball player," said Jensen, who retired from coaching in 2009, after 24 years, but still teaches architectural design at Serra High. "Even more a sure thing than Gregg [Jefferies] or Barry, believe it or not. As good a football player as he was, I thought he was a better baseball player in high school…I was a part-time scout with the Mariners. So, prior to the June draft, I took Tommy to a pre-draft workout at the Kingdome with a bunch of other prospects. He put on a show. He hit two or three balls out in batting practice with a wood bat and was probably the best-throwing guy there."